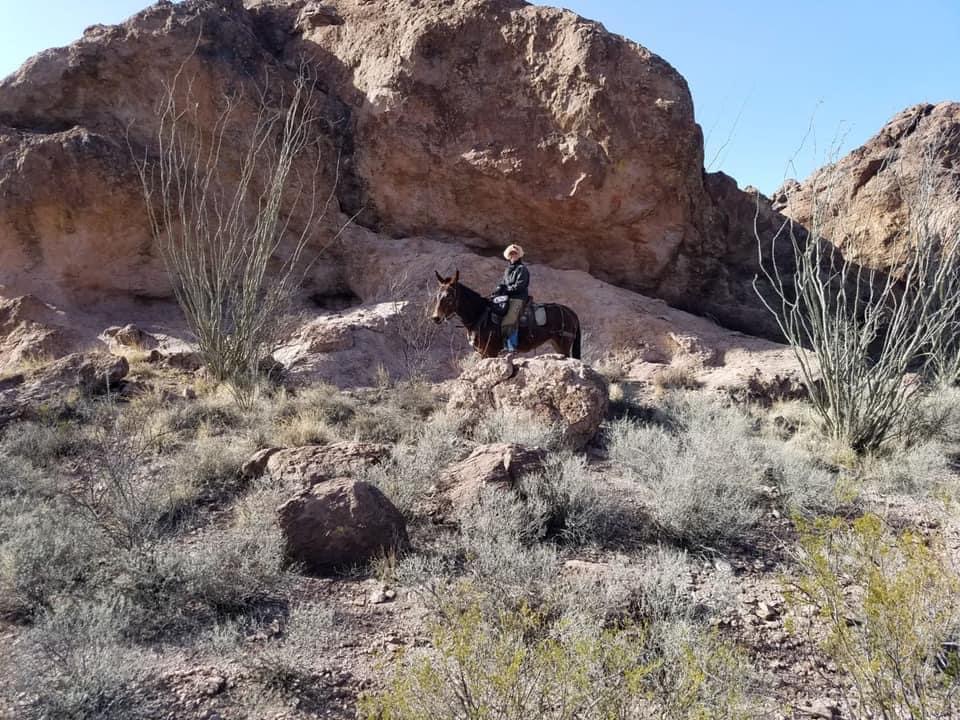 Not many places are left where you can saddle up and just ride. Big Bend Ranch State Park is one of the absolute best.
The park's terrain makes it as easy as hard as you want. Ride the old ranch roads and trails, or explore mountains and arroyos. There are roughly 240 miles of multi-use trails good for horseback riding. Horses are allowed in backcountry areas except where specifically excluded.
As always, check with park rangers to get the best information, latest news and to let them know where you're headed.
REQUIREMENTS FOR EQUESTRIAN USE
An equestrian fee of $2 per horse per day is charged, in additional to other park fees. A backcountry use permit is required for day use or overnight stays.
You must bring your own weed-free horse feed and all horses must have documentation of a current Coggins test.
"Shoes or boots on your equine are good planning," says local equestrian Misty Valdez. She notes that cell phone coverage is hit and miss in the park and that a satllite phone, good GPS and a good old fashioned printed map are an advantage.
The Big Bend Ranch State Park Discovery Map and the Big Bend Ranch State Park map are available at both Fort Leaton and Barton Warnock Visitor Center. Topographical maps are available online.
Shoe equipment is recommended by the park, and gives advice common among other activities, "If you think you'll need it, bring it." 
Also, don't expect to find water. Very little water is  available on the trails so make plans. It's especially hot and dry in the summer and hard on horses and people alike. Call the park ahead of your visit to ask about availability of water for your horse while on the trail.
HORSE CAMPS IN BIG BEND RANCH STATE PARK
Specialized campsites in the park provide pens and trailer access. Some have water; others require you bring your own water. The road into the park is rough and bumpy but even large living quarter horse trailers can make it – just go slow and easy.
Call the park ahead of your visit to verify conditions of the road into the park interior and of the sites before your trip.
Aqua Adentro Pens is really the only spot you can pull into with a large living quarters trailer without taking out the tanks underneath. There are a lot of riding opportunities from this campsite. The Octillo is still park of the fence around the corrals. 
There are three large shade shelters and livestock corrals, dry vault storage, fire rings and picnic tables. Check with rangers about water for your horses.
Other horse camps in the park will require a regular stock trail with high clearance.
Escondido Pens has woven wire pens and a spring-fed water source for horses and mules. Shade shelter, picnic table, dry vault, toilet and fire rings are also available.
Jackson Pens has woven wire pens, a water trough, fire ring and picnic table. You will want to check with the rangers before pulling a trailer down this road and plan on carrying water for your horses.
Javelin Pens has woven wire pens, a picnic table and typically has non-potable water. The park does not recommend pulling a horse trailer to this site.
Fresno Campsite cannot be accessed with a horse trailer. You have to ride on horseback to this camp. There are two hitching rails, a picnic table, fire rings, and if you're lucky, seasonal water.
FOLLOW US ON SOCIAL MEDIA