Birding and Wildlife Viewing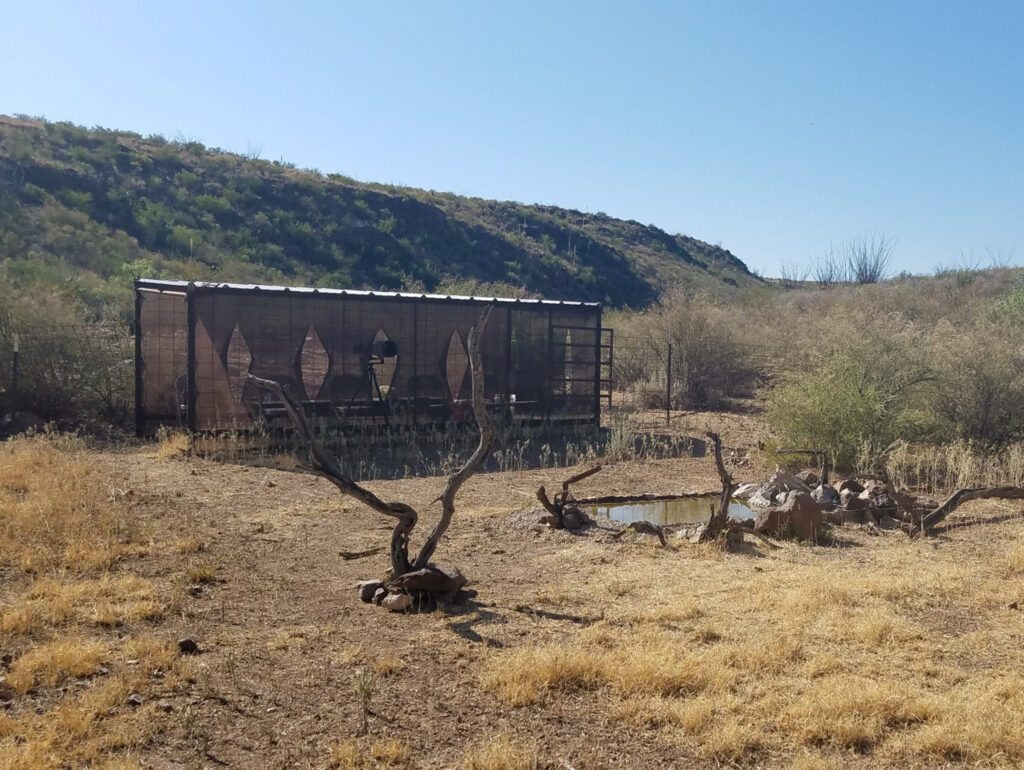 With hundreds of resident species, exceptional bird viewing is available at Big Bend Ranch State Park year-round. In additional many hundreds of species of birds are found seasonally, some passing through and others nesting to raise their young. 
For best viewing consider planning your visit in winter, spring and fall. Specifically in the spring and fall for migration viewing opportunities.
Click here for the Texas Parks and Wildlife guide the birding in Big Bend Ranch State Park.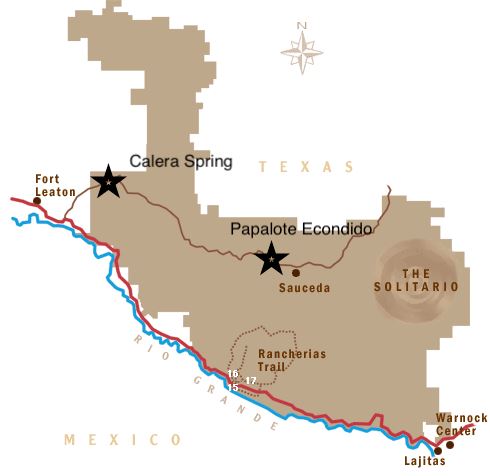 Bird and Wildlife Viewing and Photography Blinds
The park has two unique wildlife viewing structures, purpose built for the purpose of viewing and photography. These structures are specifically sited to optimize viewing opportunities. They are especially great for photography, as each is uniquely oriented so the sun rises or sets directly in back of the blind. Birds and wildlife are perfectly illuminated for outstanding photography.
To accommodate every skill level and camera lens, the blinds are set closer to the water feature than normal bird viewing blinds, usually 16-25 feet.
Papalote Escondido Wildlife Blind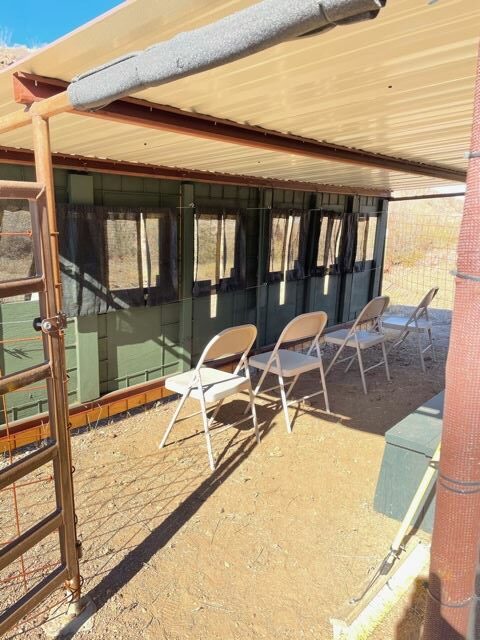 The Papalote Escondido wildlife viewing and birding blind is located near the park's interior headquarters at Sauceda. The blind is conveniently located a few hundred yards off the main road, it's also situated near other birding and wildlife viewing locations, including Agua Adentro and Cinco Tinajas. 
The Papalote Escondido blind is a covered, six-person photography blind with seated photography stations and a back bench for gear and observers. 
It was built specifically as a morning blind, the sun comes up behind the blind in a straight path to provide lighting that accentuates the wildlife subject without difficult shadows. The photography blind has a roof to protect viewers from the sun and a covered front with six slots for cameras and tripods. Special curtains can be manipulated to camouflage the photographer and equipment.
The main attraction for wildlife at this viewing location is a water feature repurposed from an old windmill well from the park's ranching era. The well is now fitted with a solar pump that delivers water to a concrete basin that holds a shallow depth of water where birds can splash and bath. It also has a small drip feature to attract birds by sound.
Calera Spring Wildlife Blind
Located at a natural spring, a short walk off the main park road just inside the entrance to the park interior, the Calera Spring Wildlife Blind is located in an ancient spring site that has been visited by birds and wildlife for thousands of years. 
The Calera Spring blind was purpose built for evening viewing and is built so the sun sets directly behind the blind to accentuate the best light and avoid shadows. It's a six-person, roof-covered facility. A covered front has six cut slots to accommodate cameras and tripods. Each photography opening  has its own curtain to camouflage photographer and equipment. There is additional seating in the rear for stowing equipment and for additional spectators.
The blind is set about 25 feet from the natural Calera Spring, and the setting has native vegetation and movable log perches to help facilitate wildlife photo opportunities. The water features have small pool depressions to photograph birds splashing and one even has a drip that attracts birds from long distances, by its sound alone. Both the blinds have logs and other natural vegetative perches to attract birds. Enclosure fencing protects the site from livestock and encourages a natural ecosystem that is attractive to all kinds of wildlife. 
FOLLOW US ON SOCIAL MEDIA